Air-Conditioner HY-GLOO , air conditioning unit designed for use in vehicle cabins
Air-conditioner A4 Monoblock for CAMPING CARS
Possessing camping because, your requests are often very large:
clim cabin or, and clim cell............ clim power-driven clim in.......... in mechanical order clim in.......... possible work during your stopping under 220 Volts.......
new Hygloo A4 Monoblock is measure to answer!
By clicking on the Hygloo A4, you will see immediately different available versions. The quality of building of A4 will satisfy the most demanding of you.
The height maxi of A4 is of 200mm! Power fridge between 3200 and 6000 watts according to the model. Different mechanical and electrical assemblages are available according to the type of vehicle in your possession.
........ and, if your camping because has neither clim driver's cab, nor clim cell, doesn't leave him.
HY-GLOO A4C is going to give him a comfort maxi.
Air-conditioner Version A4C2 :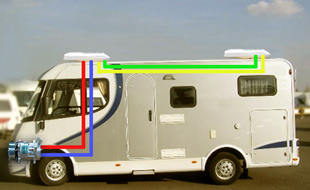 Hy-Gloo A4 Monoblock for CAMPING CARS